By Christa Miller '20
Central College has amazing food, but there are times when you need to switch up your menu. From fast food options to bakeries and coffee shops, it's good to know there are tasty restaurants in Pella. Take a walk down the sidewalks of the third best place to live in America and find a good off-campus meal or get a sweet treat for the road. These are just my favorites; you might discover others.
On the Square in Downtown Pella
Elsewhere in Town
Fast Food
Arby's, 903 W. 16th St., has the best roast beef sandwiches.
Casey's, 509 Main St., is just a block from campus and a great source of late-night- homework-session pizza.
Culver's, 1512 Washington St., is a mile away but the cheese curds make the trip worthwhile.
Happy Joe's, 718 Broadway St., is on the square and makes a tasty taco pizza, among many other choices.
Jimmy John's, 608 Oskaloosa St., is a couple blocks from campus and also delivers its sandwiches.
Pizza Ranch, 508 Main St., is on the square and serves great dessert pizza. (My favorite: cactus bread with cinnamon streusel-topped with icing.)
Subway 714 Liberty St., is four blocks north of campus and a healthy choice. Get a footlong and save half for later! It delivers, too.
Both Happy Joe's and Pizza Ranch offer an arcade for kids, so if you have family visiting with smaller children, these two restaurants are great options. Pizza Ranch has a buffet with chicken, salad and pizza for more variety.
Best Coffee Spots in Pella   Shops to Browse on the Square
Read More From Community Contributors
About the Author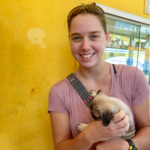 Hello! I'm Christa Miller '20, an English and anthropology double major and student writer for Central. I love horses and can be found riding every opportunity. Outside of classes, I enjoy studying at The Sanctuary on the square and relaxing with some video game walkthroughs. I also enjoy spending time in conversation with friends and writing poetry or short stories. I would love to hear from you with any comments, concerns or questions! You can reach me at millerc2@central.edu. Have an amazing day!
Share