By Christa Miller '20
Choosing a college is about more than the campus itself. For many students, location holds power, and with Pella being No. 3 in America's 50 best cities to live you can rest easy in that choice. Only a few blocks down Broadway Street is a town square housing three distinctive coffee shops many Central students love.
Off-Campus Eats   Shops to Browse on the Square
Read More From Community Contributors
About the Author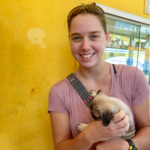 Hello! I'm Christa Miller '20, an English and anthropology double major and student writer for Central. I love horses and can be found riding every opportunity. Outside of classes, I enjoy studying at The Sanctuary on the square and relaxing with some video game walkthroughs. I also enjoy spending time in conversation with friends and writing poetry or short stories. I would love to hear from you with any comments, concerns or questions! You can reach me at millerc2@central.edu. Have an amazing day!
Share