Central College faculty showed Representative Mariannette Miller-Meeks, IA-01, some of the innovative research, STEM programs and athletics programs available to students. Miller-Meeks toured campus on Monday, Sept. 11, which included stops in the A.N. Kuyper Complex, Helen Jean Hislop Center and the Vermeer Science Center.
Jim Shriver, professor of chemistry and chair of the natural sciences department, discussed the strong research opportunities for STEM students with Miller-Meeks, center. Gracie Hoffman, biology and biochemistry major in the Class of 2025 and student ambassador, discussed her research and courses.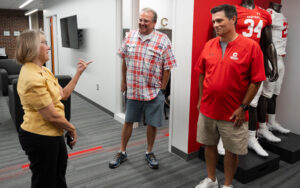 Central Dutch football coach Jeff McMartin, Class of 1990, right, thanked Miller-Meeks for recognizing the team on the House of Representatives floor a few years ago. John Roslien, associate professor of kinesiology, center, shared with Miller-Meeks, left, that Central students have access to state-of-the-art training equipment and facilities.
Share