By Caleb Evans '23
Are You Trying to Decide Whether to Keep Playing a Sport in College or Not?
Maybe you played a sport in high school and can't decide if you want to be on a team when you come to Central College.
Many high school athletes coming to Central feel they need to decide to either continue to play the sport they have been playing all their lives or to focus solely on education.
What you should know: You can absolutely come to Central, play the sport you love — and still get the quality education you deserve!
Central professors support the athletes on campus, which puts less stress on student-athletes. Plus the small classroom sizes make for a great way to get some one-on-one help from professors if you feel like you need extra attention.
Along with class sizes being smaller, you can learn way more than lecture-based teaching at a big state school. If you are wondering about that dream job you want, going to a big school does not give you an advantage over a smaller one.
Central's coaches know we are here for an education and want athletes to succeed on the field and in the classroom, making the whole experience easy and enjoyable.
The bottom line: Don't give up on the sport you love out of fear of failing academically. Most student-athletes would encourage you to enjoy playing because you will miss it when it's over. The best part of participating in athletics at Central is building a bond with a group of people who share the same love for the sport that you do!
Read More From Community Contributors
About the Author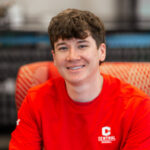 Hi! My name is Caleb (Cal) Evans '23. I am an English major with an emphasis in writing here at Central College. I am from Mt. Vernon, Illinois, but was raised most of my life in Davenport, Iowa. After college, I plan to be a teacher and coach baseball.
Here at Central I am a pitcher for the baseball team and spend most of my time being a part of the team. Through Campus Ministries and help from donors, I was able to travel to Texas for a mission trip and build houses and help feed people.
My time at Central has been amazing and would highly recommend becoming part of the Central Dutch family!
Share