By Dani Neu '21
Central College is a residential campus, which means students live in Central housing all four years they are here. On top of being a residential campus, Central also is a huge advocate for sustainability. Combine these two aspects and we get McKee Hall, also known as The Pods.
The Pods are a housing facility with apartment-style living that holds eight students within four rooms. It also includes a common area to hang out in, two bathrooms and its very own washer and dryer. The building also offers many sustainability features. These features include the utilization of solar energy and water saving facilities. Since the Pods have these features, they have been deemed LEED (Leadership in Energy and Environmental Design) certified. LEED is a "green" building certification program used by Central and other organizations worldwide to hold people environmentally accountable.
While anyone can live in The Pods, the Green Pods are a special type of pod within McKee Hall. The Green Pods require a group of eight students to apply to live in it. Instead of simply signing up to live in a pod with seven other people, which is how housing usually goes, students fill out an application to live in a Green Pod. From there they will give a presentation to faculty members about potential projects that will make the community more sustainable. After the presentation, faculty members will reward the groups with the most promising, sustainable project ideas by allowing them to live in a Green Pod. During the school year, when students are living in a Green Pod, it's their responsibility to carry out these projects.
Our students love living in the Green Pods. For starters, there is no other living facility like it, but they also are making a difference within our community with their sustainability projects. These projects range from a clothing drive to using coffee grounds as fertilizer for gardens to hosting events on healthy, organic eating. Central encourages our students to be creative when coming up with sustainability projects and every year we see incredible ideas unfold in our community.
Central prides itself on its commitment to sustainability, and the Green Pods are one successful example of how we try to do so. Not only do the Green Pods educate others about the importance of sustainability, but it also tightens the Central community by bringing people together to work toward a common goal.
About the Author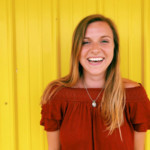 Hi everyone! My name is Dani Neu '21 and I'm from West Des Moines, Iowa. I'm double majoring in communication studies and social science with a minor in global sustainability. On campus, I have two work-study jobs as a student assistant for a professor and in the class dean's office.
When I'm not studying or working, you can find me helping out on campus with Dance Marathon, Best Buddies, Campus Ministries, SOS (Student Orientation Staff) and spending time with my friends!
Share