By Christa Miller '20
Justine Jackovich, a 2013 Central graduate, has a handful of advice for students she learned through her Central experience. She was involved in various student activities, studied abroad and graduated with a biology degree. Exploring the world — both on campus and in Europe — shaped her Central journey. Here are her thoughts on how to have a successful Central experience:
Talk to Professors
Central students have strong relationships with Central's accessible professors. All have designated office hours when they're available to meet and talk.
Ask Questions
It's not just professors who want you to succeed. Resources such as class deans, Student Support Services and counselors can help you with just about any questions or problems you may have.
Listen to Your Gut
During college you will make a ton of decisions, such as what major to choose and what career you want. Since these are big decisions, it's important to listen to your gut and choose what will be best for you.
Get Involved
Central has countless ways to get involved on campus. From Student Senate to Campus Activities Board to starting your own club, there is something for everyone. Getting involved also is a great way to meet people and make connections throughout the community!
Branch Out
College is the time to explore different interests and try new things. Central has so many opportunities — like study abroad, undergraduate research and more — that give you real-world experiences and memories to last a lifetime.
Jackovich took her own advice and studied abroad in Granada, Spain — the trip of a lifetime. She also landed the perfect career working in the student development office at a liberal arts college. She says these tips are her best suggestions for students to have a fun, fulfilling Central experience.
About the Author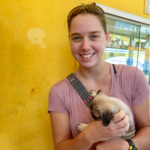 Hello! I'm Christa Miller '20, an English and anthropology double major and student writer for Central. I love horses and can be found riding every opportunity. Outside of classes, I enjoy studying at The Sanctuary on the square and relaxing with some video game walkthroughs. I also enjoy spending time in conversation with friends and writing poetry or short stories.
Share