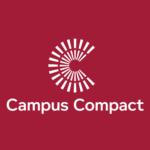 Iowa Campus Compact has announced its winners of the 2020 Engaged Campus Awards and the list includes two nominated by Central College.
Kellie Gorsche Markey, a 1988 graduate of Central who founded Dorothy's House in Des Moines, Iowa, received the Alumni Leadership Award. OLAS, Central's Organization of Latinx-American Students, received the Presidents' Student Leadership Award.
The Alumni Leadership Award is given to an alum of a member institution making strong contributions to their community and demonstrating the values of the civic mission of higher education.
The Presidents' Student Leadership Award is for an individual student or a student organization that models a deep commitment to civic responsibility and leadership, evidenced by initiative, innovative and collaborative approaches to addressing public issues, effective community building, and integration of civic engagement into the college experience.
Iowa Campus Compact is a statewide association of college and university presidents providing leadership for the civic mission of higher education and strengthening the capacity of member colleges and universities to prepare all students to become engaged citizens.
Markey opened Dorothy's House in January 2016 in Des Moines to serve survivors of human trafficking. It is a long-term, residential home that provides survivors of sex trafficking and sexual exploitation with a space, resources and support needed to find their journey.
Prior to Dorothy's House, Markey was a proven leader in marketing and business development during the first 15 years of her career. She eventually landed a job at eBay in San Francisco. Markey worked her way up to vice president of global direct marketing, leading database communication strategies for and managing assets and equity investments in Asia, Latin America and Canada for eBay International. After leaving eBay, she took time to find herself and her passion. Eventually, it led her to volunteering with teen girls back in her hometown of Des Moines. She also became a foster parent before eventually finding Dorothy's House.
OLAS is an organization that represents the Latinx students on Central's campus. With leadership from current president Michael Escobedo, a member of the Class of 2021 from Tucson, Arizona, the group seeks to create strong bonds and a sense of community among Latinx and non-Latinx students alike on campus. OLAS also hosts activities that improve society, culture and academic life.
Awards events to be held in April and May have been canceled. Online recognition will occur from April 17 to May 5 and will include video messages for and by awardees, virtual message boards, pictures and descriptions of awardees. These will be shared on Central's websites and social media.
Share