By Brandon Rosas '20
The Central College Spirit Shoppe is dangerous. Stocked with Central-branded memorabilia, Under Armour athletics wear and reusable straws, the campus store is an easy spot to burn through an entire work study paycheck. Here are five students who got something special from the Spirit Shoppe.
When Megan Beuter '20 reconnected with her mother at the end of Scholar Day, she noticed her mom carrying a Spirit Shoppe bag. "When I opened the bag in the car, there was a red Central College sweatshirt inside," Beuter says. "It was my last little affirmation before making the decision to come to Central."
"Every year, each family member at our house gets to add one ornament to the tree about something big they enjoyed throughout that year," says Matt Glockel '21, who did his fair share of decorating last year as a resident advisor. "The ornaments I have added the past two years were a Central 'C' and a globe that has the new Central logo on it. Maybe this year I'll add another Central item to the tree!"
"My best purchase from the Spirit Shoppe was a really nice crew neck," says Henry Klaassen '20, whose acquisition proved to be a little too nice. "My girlfriend took it, so I need to go buy another one," he says.
Sticky-fingered suitors or no, Haley Jorgensen '20 is not letting go of her central stocking cap. "It's lasted me through numerous winters, including the last one, in which we took buses across campus to get to Central Market," she says.
"My sophomore year I bought my parents shirts that said 'Central Mom' and 'Central Dad,'" says Adriela Ramos '20, who knows the post office isn't the only way to send a special message. "Since I am a first-generation college student, having my parents' support means a lot and I wanted them to know that my degree is as much theirs as mine."
Read More From Community Contributors
About the Writer/Photographer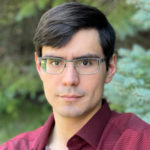 Hi, my name is Brandon Rosas '20, and I majored in communication studies with a minor in art at Central College. During my time at Central, I enjoyed drawing, watching salsa dancing videos, studying in Maytag Student Center and working as a student-writer for the Central Communications Office. I now work as PR and Communications Coordinator at Musco Sports Lighting, and I am a regular contributor to Art of the West magazine. In my free time, I enjoy reading, painting and spending time with family
Share