Mind-blowing overtime victories, take two.
Two weeks after seeing a 35-point second-half lead evaporate, only to power home a 2-point conversion in overtime to score a 57-56 upset of previously unbeaten Wartburg College, Central College pulled off its own comeback theatrics Saturday in first-round NCAA Division III football playoff action. The Dutch roared back from a 31-7 halftime deficit, tied the game with just 16 seconds remaining and this time, stopped a 2-point conversion try for a dizzying 38-37 triumph over the University of Wisconsin-Oshkosh.
No. 23-rated Central (10-1) advances to the second round of the 32-team NCAA playoffs against No. 3-ranked Wheaton College (Ill.) next Saturday.
The biggest comeback in Central history was completed with just 15 seconds to go.
Quarterback Blaine Hawkins (junior, Ankeny), who set yet another batch of school records Saturday, eluded a fierce Wisconsin-Oshkosh pass rush that had already recorded four sacks, scrambled to his left and lofted a 32-yard pass to Erik Knaack (junior, Reinbeck, Gladbrook-Reinbeck HS) in the corner of the end zone to make it 31-31 and send the game to overtime.
"All I saw was Blaine rolling out, and I just put my hand up—I know I'm going to get made fun of in film for that–but I put my hand up and then I made eye contact with Blaine," Knaack said. "I knew it was coming to me and I just had to make a play on the ball and luckily I did."
Hawkins' shuttle pass to Knaack gave Central a 6-yard score in overtime. The Titans (8-3) answered with a fourth-and-10 pass from Kobe Berghammer to a leaping Mitchell Gerend for a 14-yard TD, but Berghammer's 2-point conversion pass fell incomplete as a jubilant Ron and Joyce Schipper Stadium throng erupted.
"It's undoubtedly one of the best victories we've had in my 16 years here and if you look at the history of this program it has to rank with the top wins," said coach Jeff McMartin. "There have been a lot of great wins over the multitude of years we've played football but to do this in the playoffs on the national scene the way that we did, against a great team like Wisconsin-Oshkosh, I think is really special. It's an unbelievable feeling and what an amazing game."
The first half was anything but amazing. After the teams traded first-quarter touchdowns, Wisconsin-Oshkosh (8-3) staggered the Dutch with a 24-point second quarter. Already up 24-7, the Titans delivered what appeared to be a crippling blow in the closing seconds of the half. With 3 seconds left and Central on its own 47-yard line, the Dutch took time out and elected to try one more play, with disastrous results. Hawkins was sacked and fumbled, with lineman Trenton LaCombe sprinting 35 yards to the end zone as time expired to make it 31-7.
It felt like a season-ending play.
"Give our players a lot of credit," McMartin said. "Every player on the team has to flush that and put it behind them."
In the locker room, McMartin resurrected memories of the comeback Wartburg made after trailing the Dutch 49-14 in the third quarter Nov. 2.
"We did talk at halftime about we were just in this same situation two weeks ago but on the other end of it," McMartin said. "We said, 'Hey, you were just in this stadium two weeks ago and you witnessed something like this happening. You can do the exact same thing. You can come back, you can find a way and this is how we're going to do it. We're going to be a team that comes out and plays with passion, we're going to be a team that plays with focus and we're going to be a team that executes one play at a time.' We talk about playing one play at a time all the time and we told the team, 'It's time to put our money where our mouth is.'"
And slowly the Dutch did as the defense responded with a remarkable second-half shutout.
A 38-yard Jon Alberts (senior, Huntley, Ill.) field goal—his 11th in 12 tries this season—and a 2-yard Hawkins run made it 31-17 after three quarters. Hawkins found Knaack for a 19-yard scoring pass with 8:46 left to make it a one-score game.
After yet another defensive stop, Central's ensuing drive stalled, forcing a crucial decision. Central was facing fourth-and-7 at the Titans' 41-yard line with just over 3 minutes remaining. With the powerful Wisconsin-Oshkosh ball-control offense, it was possible the Dutch might not see the ball again.
But McMartin said kick.
"It was a very hard decision but I just felt like we had stopped them all second half," McMartin said. "We'd come off a big fourth-down stop, we had a lot of confidence on defense and we had all three timeouts. I just had a lot of faith that our defense could get one more stop. They were really locked in. We were able to play some of our strengths on defense and I knew offensively we could score quickly."
Central regained possession at its own 26 with 1:57 remaining to launch the tying seven-play drive.
The Dutch secured the dramatic win over Wartburg by going for a 2-point overtime conversion. But when Central scored first in the overtime Saturday, McMartin opted for the kick.
"It's a momentum thing," he said. "I thought we had great momentum. We were playing great defense."
Finding open receivers against the talented Wisconsin-Oshkosh secondary and its physical defensive front raised the degree of difficulty for Hawkins during Central's second-half comeback.
"We bought him time," McMartin said. "(Assistant coach Ryan) Maiuri did a really good job of getting these guys in some formations and running some routes where they could get into some pockets. Oshkosh has such great speed on defense that things that look open initially, then close up really quickly. What looks good at the start doesn't end well once the ball gets snapped. I thought our offensive line did a really good job of protecting and giving him time to let some things open up."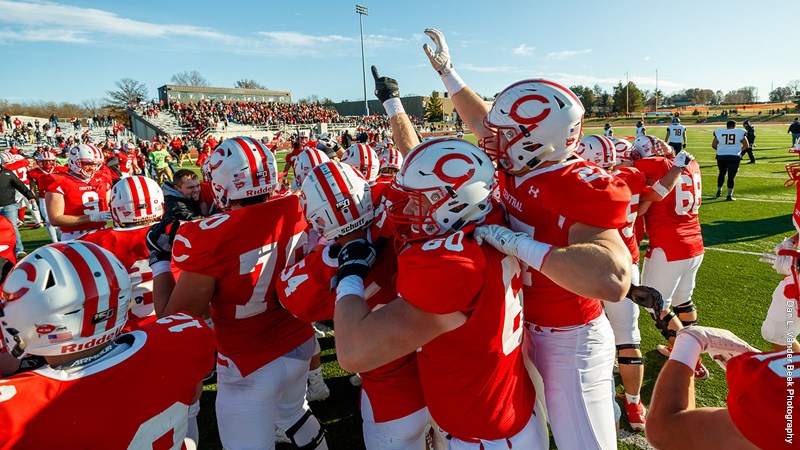 Hawkins completed 24 of 36 passes for 265 yards and four TDs. He also gained 36 yards on 21 carries, despite losses of 47 yards. Running back Jason Hopp (sophomore, Earlham) had 75 yards on 14 carries. Knaack finished with six catches for 103 yards and three touchdowns while Tanner Schminke (junior, Boone) had eight receptions for 59 yards and a score.
Central outgained Wisconsin-Oshkosh 432 yards to 372, limiting the Titans to 97 second-half yards.
"We played great defense the whole second half," McMartin said. "We played the type of defense you have to play to win in the playoffs."
Free safety Brayden Egli (sophomore, Saint Charles, Interstate 35 HS) and linebacker Tate O'Tool (senior, Fort Dodge, St. Edmond HS) each had 14 tackles, including 1.5 for loss. Linebacker Connor Lewin (senior, Stillman Valley, Ill.) had 11 stops.
Hawkins' 24 completions give him 497 for his career, breaking the school mark of 495 set by Tim Connell (2004-07), about the only career passing record Hawkins didn't already own. It also give him 234 season completions, breaking Connell's standard of 228. And Hawkins now has a school-record 3,102 season passing yards, topping Connell's record of 3,084. The two entered the game tied in season total offense, a mark Hawkins now holds with 3,632.
"Blaine Hawkins is a fantastic football player and an amazing quarterback," McMartin said. "He extends plays and he makes plays. He has the right demeanor, he doesn't get flustered. When things don't go well, there's no hanging your head or blaming anyone else. He's 100 percent accountable."
The biggest challenge of the season looms with next week's game with Wheaton but McMartin said the Dutch need to savor the magnitude of Saturday's victory. The Dutch are making their first playoff appearance in 10 years and this was their first postseason victory since 2007.
"This was amazing," he said. "This was something that doesn't happen every day and you've got to love it when you get these opportunities. This is a team that I'm really proud of. I'm really proud of how they've battled each week and what we've become, from where we started and even where we were at mid-season. It's been a great progression."
Share