Central College will welcome Rafael Rosado, a prolific storyboard and graphic novel artist, to showcase his work from Oct. 23 to Nov. 15 in the Mills Gallery in the Lubbers Center for the Visual Arts. The exhibit will feature a behind-the-scenes look into Rosado's process from initial concepts through final products.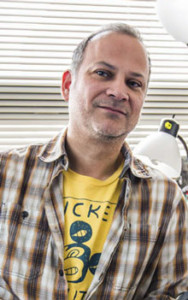 Rosado is the Allison B. Allen artist in residence at Central. The residency is made possible through an endowed fund created by former Central administrator Hutch Bearce and Gretchen Bearce. The annual residency seeks "artists who have a new, interdisciplinary approach to bring to campus."
Born in Puerto Rico and based in Columbus, Ohio, Rosado is a seasoned writer, director and storyboard artist for the animation industry. Highly diverse, he has storyboarded on action, comedy and preschool shows as diverse as "Scooby Doo," "Transformers," "The Batman," "Looney Tunes" and "Curious George."
Rosado is the co-creator and illustrator of the graphic novels: "Giants Beware!," "Dragons Beware!" and "Monsters Beware!," published by First Second Books. His work is featured in the latest edition of the Comics Squad anthology, published by Random House books, and the upcoming The Latinographix Collection, from OSU Press. He's the illustrator of the "Ultra Squad" series of graphic novels published by Justice Studios. "Call Me Iggy," his newest graphic novel collaboration with Jorge Aguirre, is upcoming from First Second Books.
The public is invited to an artist talk and reception in the gallery at 5 p.m. Monday, Nov. 4. The Mills Gallery is open from 9 a.m. to 5 p.m. Monday through Friday.
Share