Central College received a gift of $300,000 from Dave '61 and Ardie Pals Sutphen '64 toward the Forever Dutch® initiative, which funds updates for athletics facilities.
The gift was made in honor of Marjorie Gruis, and the plaza in front of the P.H. Kuyper Gymnasium is named in her memory. Ardie is Gruis' niece.
"Central College was a special place to her," Ardie says. "It's another way for her to be recognized at Central for her love of the college."
Gruis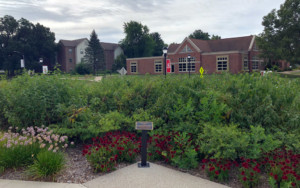 was a generous friend to Central throughout her life, including gifts to establish an endowed scholarship and toward the Journey Scholarship Fund. She died in January 2018.
A plaque recently was placed near the plaza. It reads: "Marjorie Gruis '49 earned her teaching certificate at Central College, later teaching elementary students at a country school. With a generous gift from Dave '61 and Ardie Pals Sutphen '64, niece of Marjorie, this plaza is named in her memory and in honor of her love for students."
There will be a dedication of the plaza during Central's first home football game this season, Sept. 7 against Northwestern-St. Paul.
Dave joined Central's staff in 2000 and retired as vice president of advancement in 2013. He continues in retirement as major gifts advisor. Ardie worked at the college from 1979-2012, primarily as executive assistant to the president.
The Sutphens have been big supporters of Central athletics and Forever Dutch®. They have given more than $400,000 to the cause and been the face behind the initiative.
Central will hold a Forever Dutch® 48-Hour Fundraising Challenge next week starting at noon Aug. 20 and running through noon Aug. 22. It's a push to raise $220,000 needed to fund renovation construction on the lower level of P.H. Kuyper Gymnasium, following the $13 million expansion to the athletics facilities two years ago. This effort will fund renovations to another varsity locker room, the athletics training room area and equipment room.
"It is about facilities, but the most important thing is the people and the difference Central makes in these students' lives," Dave says. "I get to see it firsthand. I've been involved with Central since I came as a student in 1957. Ardie and I just believe in this place, and we believe in our students and coaches. They are absolutely fantastic and we need to support them."
For more information or to donate, visit ignite.central.edu/foreverdutch.
Share