By Brandon Rosas '20
What: "A completely free, no-questions-asked resource that helps students get the things they need without spending money"
Where: Maytag Student Center, Lower Level Wellness Center, Office 9
When: Tuesdays 2-5 p.m. and by request
Why: To sustainably supply student need
Pass Maytag Student Center's arching skylight, roaring fireplace and spiral staircase. Go through the double doors of the Wellness Center, take a left and behold: Housewares! Finery! Tide Pods! And if you're a Central student with a material need, it's all free for the asking.
It's called the Coat Closet and opened in Fall 2018. It is "a completely free, no-questions-asked resource that helps students get the things they need without spending money," says student development senior administrative assistant Hillary Svenby, who manages the closet.
Initially, the closet was stocked mostly with coats, hats and gloves from campus and community donations. It's grown to include everything from school supplies to coffee pots to laundry soap to professional wear suitable for internships and job interviews. New items arrive regularly, with a big boost after the end-of-year move-out when many students donate items they'll no longer need or can't take with them.
"Students are surprised at how nice the stuff is," Svenby says. Or how esoteric. "One student asked to borrow a molecular biology modeling kit for her lab. She was surprised when I told her she could have it."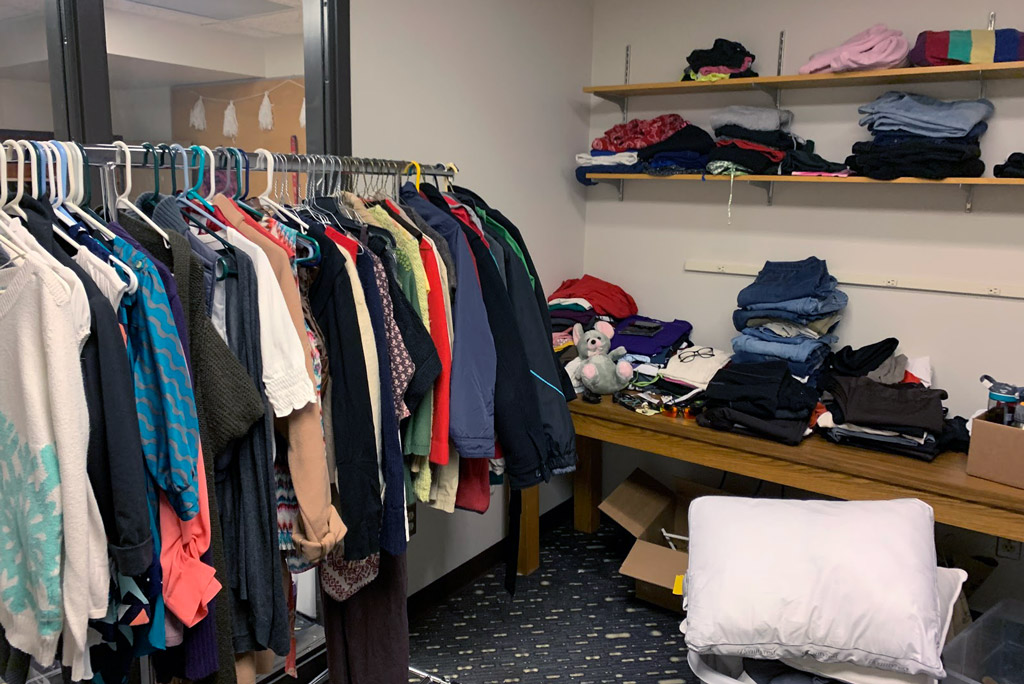 Terms are easy: "Students can come and go and take items that they need," during open hours 2-5 p.m. Tuesdays or by appointment with Svenby. During open hours, students can browse for what they need and a student worker is available to answer questions and help students find what they're looking for. If the closet doesn't happen to have it, they'll try to obtain it within the week. "Last year a student needed a coat in a size we didn't have," Svenby says. "The student worker let me know, and I sent out an inquiry through the Campus Trader. Within a few days, we had a donation."
The Central Coat Closet invites donations year-round. "If you have something students might need, we'll take it," Svenby says.
"Our biggest need is a variety of sizes of clothing and basic laundry and office supplies: laundry soap, notebooks, highlighters, pens, index cards, etc. We're not looking for furniture because space is limited both in student housing and in the Coat Closet," Svenby says.
Student needs follow a predictable schedule. Small appliances—coffee pots, microwaves, dorm fridges— are sought after in August after move-in; warm clothing is a necessity as winter approaches; professional apparel is needed in the spring when students interview for jobs.
"Everybody is so giving," Svenby says. "Every time I put out a request for an item in the Campus Trader, there is always someone who steps up to meet our need. It's very rewarding. It's our way of telling students, 'Hey, we've got your back. We're here to help if you need it.'"
More information:
Central Coat Closet
Maytag Student Center
Lower Level Wellness Center, Office 9
Open from 2-5 p.m. Tuesdays or by appointment
To access the Coat Closet after hours, donate items or volunteer, contact Hillary Svenby at 641-628-5293 or svenbyh@central.edu. Bring donations to Maytag 224.
Read More From Community Contributors
About the Author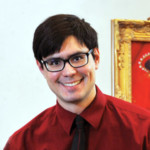 Hi! My name is Brandon Rosas '20 and I am a communication studies major and art minor. I currently work as a student writer for Central Communications. Outside of class, I can usually be found drawing, watching Salsa dance videos or studying in the Maytag Student Center. I would love to hear from you!
Please contact me at rosasb1@central.edu with your questions about Central.
Share